Certification:
1. All Reno mattress are manufactured in accordance with the requirements of BS EN 10223-3:2013.
2. All wire is in accordance with BS EN 10218-2:2012 and BS EN 10223-3:2013
with an ultimate tensile strength of between 350 to 500N/mm².
3. All wire used in the gabion production or accessories shall be Zinc or Zinc 95% Aluminium 10% coated in accordance with BS EN 10244-2:2009 (Class A) with an additional extruded organic polymer powder coating (grey,green) of 0.5mm nominal radial thickness. This organic polymer powder coating is in accordance with BS EN 10245-2:2011.
Optional Material:
Galvanized wire:zinc coating can be from 40-280g per square meter.
Galfan wire:also called aluminum-zinc coated wire (10% Al)zinc weight can be from 200g-500g per square meter.
PVC coated wire:The inner wire is galvanized wire or galfan wire, and the regular color is grey and green.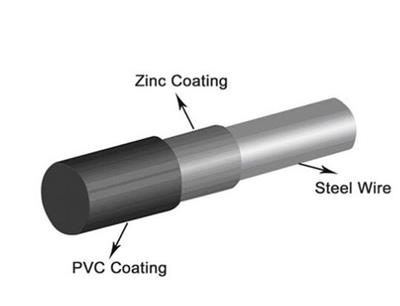 Specification:
| | | | | | | |
| --- | --- | --- | --- | --- | --- | --- |
| Mesh Wire(mm) | Selvedge Wire(mm) | Lacing Wire(mm) | Hole Size(mm) | Length (mm) | Width (mm) | Height(mm) |
| 2.2 | 2.7 | 2.2 | 60x80 | 3 | 2 | 0.17-0.23-0.30 |
| 2.2 | 2.7 | 2.2 | 60x80 | 4 | 2 | 0.17-0.23-0.30 |
| 2.7 | 3.4 | 2.2 | 80x100 | 5 | 2 | 0.17-0.23-0.30 |
| 2.7 | 3.4 | 2.2 | 80x100 | 6 | 2 | 0.17-0.23-0.30 |
A reno mattress is a double twisted hexagonal woven galvanized steel wire mesh compartmented basket with a rectangular mattress shape. The compartment or cells of the reno mattress are of equal size and dimension and are formed by internal diaphragms being placed within the basket providing even distribution of the stone fill throughout the mattress even after structural movement. Even distribution of the stone fill ensures that the reno mattress maintains intimate contact with the foundation soil.
construction & installation
for easy handling and shipping, mattresses are supplied folded flat in bundles of 25. Lids are packaged in separate bundles or in rolls for larger units of mattresses.
step 1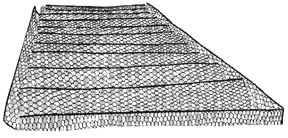 individual mattress is first unfolded on flat, hard ground and stamped to remove all kinks. The two long sides and both end panels are then lifted upright and secured in position by tying the selvedge wires together.
step 2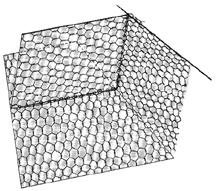 the vertical edges of all internal diaphragms are attached to the sides and laced with typing wire or approved interlocking wire fastener.
step 3
the assembled mattress is then aligned in the required position and tied or fastened to adjacent mattress along the whole length of selvedge wire. Mattress units should be placed in proper position so that movement of rock fill inside the cage -- due to gravity or flowing current -- is minimal. Thus, on slopes, mattresses should be placed with its internal diaphragms at right angles to the direction of the slope. On river beds, position mattress with the internal diaphragms at right angles to the direction flow.
step 4

the stone is placed into the compartments (cells). If it's a slope, start from the bottom. One or more mattresses can be filled at the same time.
step 5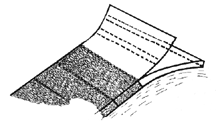 sequence the installation by keeping the stone filling crew well ahead of the lid placement crew. Lids or top panels must be securely tied or fastened to side-tops and end panels and also to the top of the inner partitions.
step 6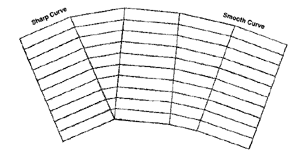 the mattresses may be either telescoped or cut to form and tied at required shape when necessary, e.G. When mattresses are laid on a radius. For a sharp curve, it may be necessary to cut the mattress diagonally into triangular sections and tie the open side securely to an intact side panel.